Kirkby Stephen Services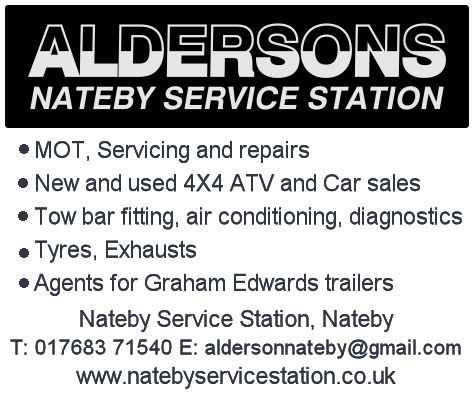 To advertise your business here call 015395 64486
Qualified Foot Health Professional
AGGIE KOZA
MCFHP MAFHP
T: 017683 98457 or M:07910 028 955
21 Belle Vue Rd, Appleby in Westmorland CA16 6TY
HOME VISITS BY ARRANGEMENT
DAY, EVENINGS & WEEKENDS
Mobile Valeting and Detailing Service
VVDS
Tel: 07590 016 604
email: vvds@btinternet.com
WALKER'S
Independent Family Funeral Directors
Est 1945
Chapel Street, Appleby In Westmorland
017683 30321
mail@walkersfunerals.co.uk
www.walkersfunerals.co.uk
A Caring and Professional 24 Hour Service
to All Areas
Alan & Susan Smyth,
Damon Steadman, Dip FD, MBIE
Do you want to look better, feel better, move better & have more confidence?
Then CJH Fitness a personal training studio based in Kirkby Stephen can help you reach your healthy & fitness goals ranging from fat loss to muscle gain.
For more information contact us at
www.cjh-fitness.co.uk
or
07368170470
CJH Fitness, Skywalk House, South Road, Kirkby Stephen, Cumbria, CA17 4SY
RURAL LANDSCAPES & GARDENING. KIRKBY STEPHEN
Quality Paving, Steps, Driveway Installation,
Fencing & Timber Work, Planting, Landscaping, 3D Design,
Bespoke & Unusual Projects.
Available All Year Round
5 Star Rated, Trustworthy, Polite and Experienced.
Call, Email or WhatsApp
Office: 017683 89100 Mobile: 07377 566 417
info@ruralgardens.co.uk
www.ruralgardens.co.uk
CP DRAINS & CCTV
For Domestic Blocked Drain Clearance and CCTV Drain Inspection
Please Contact Colin Prescott Mobile: 07747088535 Tel: 015396 26140 Email: colinrprescott66@gmail.com
KL Venning Slaters Ltd
Established in Cumbria for over 30 years, specialising in natural slate.
For a free no obligation quotation, please call 015396 24481
www.klvenningslaters.co.uk
Eden Recycling. Environmentally Friendly Skip Hire
Crusher Hire
Scrap Metal Merchant
Hydraulic Pipes
Mini Skips
Builders Skips
BOC Gas Products
Asbestos Removal & Testing
Demolition
Stockists of Morris Lubricants
Telephone: 017683 72322 Mobile (Call or Text): 07860 426 716 www.edenrecycling.co.uk
EMT PLUMBING & HEATING ENGINEERS
• All Plumbing, Heating & Electrical Work • Boiler Servicing , Repair & Installation • Gas / Oil & LPG boilers. • Underfloor Heating • Air Source Heat Pumps • Bathrooms • Kitchens • Solar Thermal • Solid Fuel / Stove Installation
T: 07846643602 or 017683 71221 www.emtplumbing.com
Gas Safe & Oftec Registered.
N & D Veitch Milk and More
DOORSTEP DAIRY DELIVERY
Call 017683 71375 Mobile 07590 016 604
nanddvmilk@btinternet.com
D WAPPETT DOMESTIC & COMMERCIAL ELECTRICAL CONTRACTORS LTD
Contact George on
07815 703 404 or 017683 52012
C B S Elecrical
Industrial, commercial, domestic.
IT SERVICES - Computer Repairs & Sales
Telephone/Fax: 017683 72118 Mobile: 07834 284838
Barney Slack, Kirkby Stephen
www.cbselecrical.biz
J.S. Winder Building & Roofing Contractor.
www.jswinder.com
BUILDING
Conversions | New Builds | Renovations
ROOFING
Maintenance | New Roofs | Repairs
TOOL & PLANT HIRE
View our vast selection of tool hire online
or visit us at Kirkby Stephen Business Park
T: 017683 74819 E: info@jswinder.com
Martyn Hindson Building Contractors
All building work undertaken.
Mobile: 017683 48240 or 07791 772 642
Allison Electrical and Aerial Contractors Ltd
TV aerials, new, repairs & extensions, sky installations, Sky+, HD & multiroom. Set up of Tvs, VCRs, DVDs, digital boxes & Sky. Telephone extensions. Andrew Allison
Mobile: 0797 67 54 982
Prima Taxis
Jimmy & Louise Davis. Prompt & reliable service. 4 - 8 seaters. Wheelchair access.
Telephone: 017683 72557
Aqua Clean
Specialising in: Carpets, Upholstery & Mattresses, Hard Flooring (cleaning & sealing), Driveways, Paths & Patios,
Windows & Conservatories, Prestige Vehicle Valeting
Domestic & Commercial Cleaning Specialists
Steven Taylor T: 017683 41929 M: 07810 438389 www.aquacleancumbria.co.uk

Bell and Prime Scaffolding
Industrial. Commercial. Domestic. Scaffolding contractors.
Telephone: 017683 71400 Mobile: 07971 034 681
Lakeland Plumbing & Heating
Gas, solid fuel & oil. Reliable prompt attention. Guaranteed workmanship. All areas covered
Telephone: 017683 72345
Lakeland Blinds Appleby
Vertical. Venetian. Roller. Velux. Roman. Tailor made blinds at affordable prices. Samples brought to your home. Domestic and Commercial
Mobile: 07956 140 335
Website: www.lakelandblinds.com
R.A LOFTHOUSE ROOFING SERVICES KIRKBY STEPHEN
We Specialise In Traditional & Modern Slating And Tiling.
We Offer Reliable and Competent Service In and Around The Eden Valley
• Traditional Slate Specialist • Re-Roof to Repair Work • Slating & Tiling
• Lead Work • Velux Windows • Chimney Work
For A Free Quotation or Any Inquiries Please Call
Tel: 07557738016 Mob: 017683 48787 or email r.a.lofthouse@outlook.com
TYLA SERVICES LIMITED
North View, Burrells, Appleby-in-Westmorland, CA16 6EG
Tel: 017683 54188 Mob: 07890 773104 www.tyla-services.co.uk
*Dangerous tree removal* *Pruning* *Felling* *Reductions* *Hedge Cutting* *24 Hour Call Out* *Grass Cutting* *Stump Grinding*
FIREWOOD & LOGS £55 per Dumpy Bag
All work is completed to British Standard BS:3998
We are fully insured to £10m and have over 13 years experience of all aspects of arboricultural work
Contact: Matt Morgan FDSc Arb TYLA SERVICES LIMITED
WPS Supplies Ltd
Coal Merchant • Bottled Gas - Flo Gas
Kiln Dried Logs • Builders Merchants
Garden Supplies
TEL: 017683 72333
www.wpssupplies.co.uk
Unit 2 Station Yard, Kirkby Stephen
Glyn Jones FUNERAL DIRECTOR
A Complete, Professional, Caring, Sympathetic Service, All Areas Covered, Private Chapel of Rest
Hugh Jones & Glyn Jones
12 Battlebarrow, Appleby TEL. 017683 51569
CLARKE Agriculture
Agricultural Engineering and Fabrication
• Oils • Lubricants • Spare Parts
• Servicing • Workshop Repairs
Children's Farm Toys and Ride on Tractors
T: 017683 71714
www.clarkeagriculture.co.uk
Unit 14 Kirkby Stephen Business Park
Sean Robinson JOINERY & DECORATING
• U-PVC windows and doors • Kitchen fitting • Painting • Plastic Fascias and Spouting
Kirkby Stephen Tel: 07739797132
Kevin Hanna Plumbing & Central Heating Engineer
Tel 41303 Mob: 07950 327567
Tony Mason Electrical
KIRKBY STEPHEN M. 07968700857 tonymasonelectrical@gmail.com
• New Installations • Rewires • PAT Testing • Additions & Alterations • Fire & Security Alarms • Repairs & Fault Finding
Lakeland Blinds Appleby
VERTICAL–VENETIAN-ROLLER-VELUX-ROMAN-SHUTTERS
Free Measuring & Fitting
Samples brought to your home
For more information or to arrange an appointment
please call Kevin - Mobile 07956 140 335 or 01768 362101
www.lakelandblinds.com
Wilkinson PROPERTY SERVICES
Building, Joinery, Plumbing, Landscaping, Electrical, Flooring
Tel: 017683 72999
www.wilkinsonpropertyservices.co.uk
Unit 2 Station Yard, Kirkby Stephen
Alderson Joinery - Paul Alderson
For All Your Joinery Work
Kitchen Fitting
Doors & Windows Supplied & Fitted
Tel: 017683 71108 or 07970755262
Kirkby Stephen Garages
Aldersons
MOT testing station. Tyres, exhausts & batteries. Motor & agricultural repairs. Bodywork & spray painting. New and used car sales.Texaco Fule. Car wash & vac. AVT sales & service. Tow bars & music systems fitted.
Telephone: 017683 71540 or 71831
Nateby Service Station, Nateby
www.natebyservicestation.co.uk
Scrap Metals Wanted
Any Japanese vans/pick ups wanted. Farm scrap, tin sheets, engines, electric motors, quarry scrap, batteries, anything metal.Scrap cars, MOT failures, accident damage, washing machines. Top prices paid. Pick up anywhere. DVLA registered end of life. Call Chris.
Telephone: 017683 52170/ 017683 52844 Mobile: 07976 442 781
STEPHEN MCWHIRTER SERVICES
VEHICLE SERVICE REPAIR AND MOT PREPARATION
MAZDA BONGO SPECIALIST, MAZDA BONGO JAPANESE IMPORTS
LOCAL COLLECTION AND DELIVERY
CYCLE REPAIRS
TEL: 017683 72442 or 07585304362
www.stephenmcwhirter.co.uk
EDEN VALLEY TYRES & AUTO SERVICES
Unit 8 Kirkby Stephen Business Park
edenvalleytyre@gmail.com
Tel: 017683 74999
Servicing • Repairs • MOT
Up To Date Diagnostics
Pendragon Bodyworks
Vehicle Bodywork Specialist
Unit 1 Kirkby Stephen Business Park
T: 01768342220 M: 07770710238
www.pendragonbodyworks.co.uk
MHB Motorcycles
• Motorcycle Sales and Service • Motorcycle MOT's
• Clothing and Accessories • 4x4 Vehicles Sales & ATV Sales
Tel: 017683 71070
www.mhbmotorcycles.co.uk
Unit 9-10 Kirkby Stephen Business Park, CA17 4HT